Main Content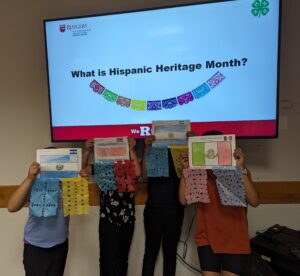 Nationally, Hispanic Heritage Month is celebrated from September 15th to October 15th every year. This year, Mercer County 4-H added a series to its School Enrichment offerings to provide education to students in Mercer County about this month-long celebration.
Students have taken a deep look at Latin America, including its geography, food, languages, traditions, innovations, art, and key figures. Depending on the grade level, the session closes with an activity – drawing a family portrait with family members labeled in Spanish, making a decoration with flags and "papel picado," or playing Loteria, Hispanic bingo.
Students mention that they learn a lot about Latin America, how they can celebrate Hispanic Heritage, and the ways in which they are already familiar with the culture in their everyday lives.