Main Content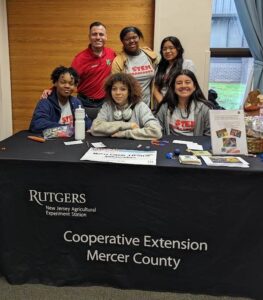 Rutgers Day is a festival held annually on the last Saturday in April at Rutgers University. First branded as "Rutgers Day" in 2009, the festival brings tens of thousands of festival-goers to campus; it is open to the public and offers more than 500 free programs featuring demonstrations, child-friendly interactive activities involving animals and plants, student performances, cultural traditions, food vendors, a football scrimmage, and live music.
As a part of Rutgers University, 4-H has a presence at the festival, and this April 29, a group of Mercer County 4-H youth attended Rutgers Day to engage the festival-goers with interactive activities. The Robbinsville Innovation Club showcased their maker projects which ranged from Arduino technology to app designs. Many of the young people who stopped at the Robbinsville tables were in awe of the innovation our 4-H youth have developed and were able to showcase. The Mercer County 4-H STEM Ambassadors were also present at Rutgers Day. They engaged the audience with an interactive demonstration of MakeyMakey, a programable circuit board, to highlight simple circuitry, and the group also engaged with young people to teach them about binary code while guiding them in making binary code bracelets.
The day was filled with fun, activities, discovery, and exploration of new ideas as the 4-H youth engaged with other demonstrations throughout Busch Campus. Mercer County 4-H continues to provide opportunities like this to our youth that will further develop their public presentation skills, continue to nurture their spark and give them a chance to highlight their work.
Rutgers Day 2024 is scheduled for April 27, rain or shine. Hope to see you there!