Main Content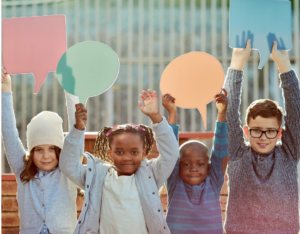 Two hundred ninety-five Mercer County 4th and 5th-grade students participated in the 4-H In-School Public Speaking Program.
In the first session of this two-part program, the students learn the basics of public speaking and the three types of presentations: demonstrations, illustrated talks, and performing arts. Then it's off to researching the topic and preparing for presenting, which can be frightening for both children and adults!
In the second session, they give a 3-5-minute presentation on the topic of their choice. This year's topics included the musculoskeletal system, bird watching, playing the violin and much more!
The students were evaluated on their presentation skills and received comments to enhance their future presentations. Upon conclusion of the presentations, the students received their score sheet, a certificate of completion, and a 4-H In-School Public Speaking participation ribbon.
This popular program helps students to develop a skill that lasts a lifetime!