Main Content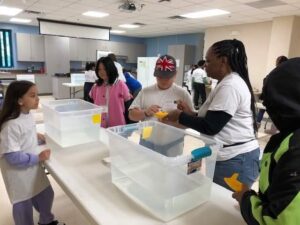 For the tenth running year, Mercer County 4-H is partnering with scientists from Bristol Myers Squibb to engage Trenton area youth in fun, hands-on science and engineering activities to help spark an interest in STEM. Our first session of the Tomorrow's Innovator Science Saturday series was Saturday, October 22nd where we had seventy youth from grades 4-7 join us to participate in the 2022 National 4-H STEM Challenge, developed by Rutgers University.
During this session, participants learned about buoyancy and how to ballast a marine glider going into the ocean for a mission. Also, they learned about the many dangers and challenges our oceans and marine wildlife face and how we can bring awareness to these issues by crafting a public service announcement and many fun facts about the ocean, marine wildlife, and oceanic phenomena by playing an ocean-themed board game. All the activities were facilitated by a group of Bristol Myers Squibb volunteers who understand these youth are our next generation of scientists and want to help foster a STEM identity within them. Additional support is provided by our Mercer County 4-H STEM Ambassadors – teens from the Trenton area who love STEM and volunteer in the community.
The program is a great way for our participants to identify whether STEM is a path they want to pursue while engaging with volunteer scientists and older peers. Science Saturdays bring the community together to inspire the next generation of scientists and engineers.
The program continues into the spring, when the participants will showcase their experience to friends and family at our closing ceremony.