Main Content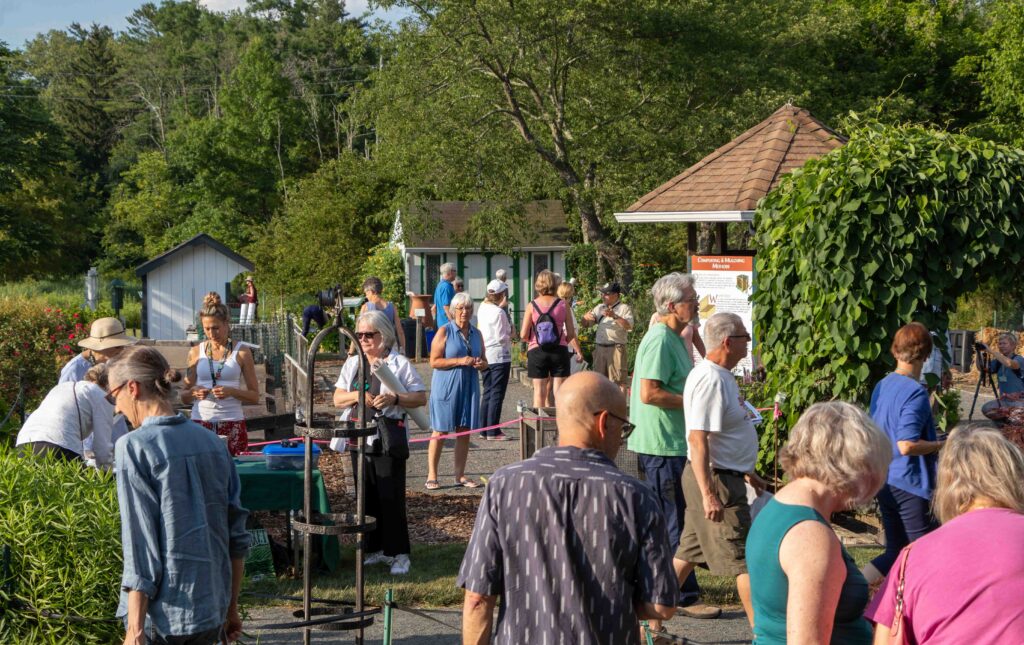 On Thursday, July 14, from 6 pm to 7:30 pm, Rutgers Master Gardeners of Mercer County hosted "Evening in the Garden" at Mercer Educational Gardens (MEG) with a focus on celebrating pollinators.
The first "Evening in the Garden" since 2018 was a rousing success a magical evening with over seventy attendees enjoying a leisurely tour of the various themed gardens. The attendees included new and experienced gardeners and a group of seven members of the Somerset County Master Gardeners Program. West Windsor government officials also attended, as they were interested in ideas to educate their citizens on more responsible gardening practices. Several prospective members of the next class of Master Gardeners were also present.
Master Gardeners were stationed at each garden, emphasizing the vital importance of pollinators, what role plants play in attracting pollinators for their nectar and pollen, and the best way to grow these beneficial plants. The Master Gardeners did a lot of preparation work. The Perennial Garden and Cottage Garden Committees prepared comprehensive lists of their plants while focusing on several important pollinators. The Native Plant Garden Committee highlighted shrubs, trees, and plants like cardinal flower and Joe Pye Weed, both of which were in bloom. The Butterfly Garden Committee was out in force, doing a great job explaining the plants' importance to various butterflies throughout their lifecycle.
The Herb Garden Committee fielded many questions while also dodging Golden Digger Wasps. And the recently reborn Annual Garden was very popular, managing also to have a monarch caterpillar for everyone to experience.
There was even a plant giveaway, where six lucky attendees won either a native plant or a "pollinator-friendly container garden" (designed by our Master Gardener Kelly Thompson)! The Community Education Committee paid for the containers and plants. Thanks to all of the Master Gardeners who put time and effort into this wonderful event! We are confident that all who attended left with an appreciation for the importance of pollinators and fond memories of an "Evening in the Garden"!