Main Content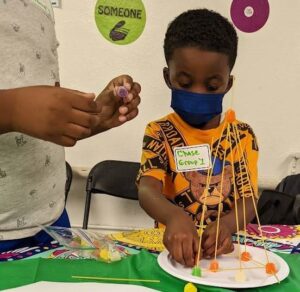 Summer is in full force, and for 4-H, that means summer camp! Mercer County 4-H holds camps at the Extension Office, and we also host camps at community partner locations. Recently, in partnership with Urban Promise of Trenton, Mercer County 4-H provided a week-long STEM camp experience to 45 youth.
The youth in Urban Promise's Camp Truth enjoyed a hands-on STEM week, including activities about the respiratory system, electromagnets, earthquake-resistant buildings, and surface tension. Campers built a model of their lungs and learned how humans breathe, how lungs expand and contract, and habits to keep their lungs healthy. On Tuesday, campers used batteries, nails, and paper clips to create electromagnets while discussing their applications. Wednesday was a fun day with spaghetti and gumdrops – campers designed, built, and tested their very own structures against an earthquake simulator. The week closed with a demonstration of surface tension with water. Campers were amazed at making a small paper boat move with only a drop of dish soap.
4-H was delighted to work with Urban Promise to bring this rich experience to the campers. Many of the youth reflected on the fun they had and the many new concepts they learned in such a short period of time.
Our STEM summer experience continues with other STEM-themed camps through 4-H. So stay tuned to hear more about STEM in the summer with Mercer County 4-H.