Main Content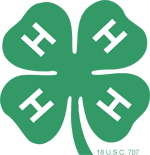 Become Involved!
Join, volunteer, or start a 4‑H club in Mercer County today!
Participating in 4‑H Clubs is a fun way to make friends while learning about your community and chosen project area. As a 4‑H member or volunteer, you can be proud to know that you are involved in a program which focuses on 'learning by doing.'
The four H's of 4‑H stand for 'head, heart, hands and health;' a representation of the character-building core values of independence, belonging, mastery and generosity. Through caring adult volunteers, supportive 4‑H staff, land-grant (Rutgers) university curriculum, and fun and informative events, we are able to encourage youth to 'make the best better' within themselves, their clubs, their communities and beyond.
Clubs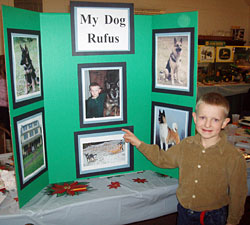 4-H Clubs (PDF) consist of members of an organized group of youth led by two or more adults. A club is usually project specific or community-based, and should have a planned program that is carried out over the year. Clubs may meet in any location and typically have elected officers and a set of rules approved by the members to govern the club.
It is important to note that the 4‑H Club Program has evolved from its traditional agricultural roots, as the program now services mainly suburban and urban communities. Today, livestock, gardening and home economic clubs function alongside of a wide variety of non-agricultural project-based clubs.
Currently, branches of the 4‑H Club Program exist in most of the Mercer County townships and cover a variety of project areas including:
Animal Clubs: Including livestock (goats, sheep, rabbits and poultry), small animals (rabbits, hamsters, guinea pigs etc.)
Art Clubs: Sewing
Community Service and Leadership Clubs: Including opportunities for Cloverbuds (K–3), and standard members (4th grade to one year out of high school). Some clubs are age-specific (middle school and high school clubs), and others focus on home schooled youth.
Health and Wellness
Nature Clubs: Nature exploration, gardening, composting and environmental stewardship.
Science Clubs: general STEM, robotics, coding, engineering
If you are a Mercer County resident and are interested in 4‑H, but do not see your preferred project area listed, no worries! Mercer County 4‑H Staff will work with you to find a club or to start a new one if necessary.
Members
4‑H clubs are open to youth in 1st through 13th grades (one year out of high school). Youth in grades K-3 participate in 4‑H Prep clubs, an exploratory program designed to help young people explore various project activities in a noncompetitive environment. Youth in grades 4-13 may belong to standard 4‑H clubs.
Throughout the year, 4‑H members participate in local, county and state-wide events, including Public Presentations, the Mercer County 4‑H Fair, and the New Jersey State 4‑H Summer Camp. The county fair and camp sessions are fun-filled events open to the general public, but are extra special for 4‑H members. They serve as a project showcase and final reward for a year of hard work. Through these events, youth learn fundamental life skills, such as leadership and citizenship.
Volunteers
Volunteers are an essential element of the 4‑H Club Program. New volunteers are always needed to share their expertise, no matter what that might be! If you are interested in volunteering, please contact the Mercer County 4‑H office.
Volunteers can serve in a variety of roles, including:
4‑H Club Leaders
Resource Leaders
Parent Helpers
Instructors
Mentors
Fundraisers
Event Judges
Camp Counselors
4‑H Advisory Board Members
All registered adult 4‑H volunteers working directly with 4‑H youth in New Jersey complete a screening process and receive training at no cost to themselves. Teens may also serve in volunteer roles through the 4‑H Teen Leadership project.
Policy of Inclusion
4‑H Youth Development programs are offered to all youth, kindergarten through grade 13, without regard to race, color, national origin, sex, disability, or handicap, on an age appropriate basis.
For more information, contact Altaira Bejgrowicz bejgrowicz@njaes.rutgers.edu.